Neymar Jr. – The Famous Brazilian footballer, who plays as a forward for French club Paris Saint-Germain and the Brazil national team. He is so famous because of his hairstyles, As a Footballer, he is a Fashion Model Too. In this post, we will share you Latest Neymar Haircut with Hairstyle Name and Tips & Tutorial to Get a Hairstyles Like Neymar Hair. Make your hairstyle cool with golden shade and Latest Men's Short Haircut with Neymar Hairstyle. He Had so many types of Latest Hairstyle, we will share all about Neymar Jr. Hairstyles. Check it Out.
1. Short Curly Neymar Haircut Style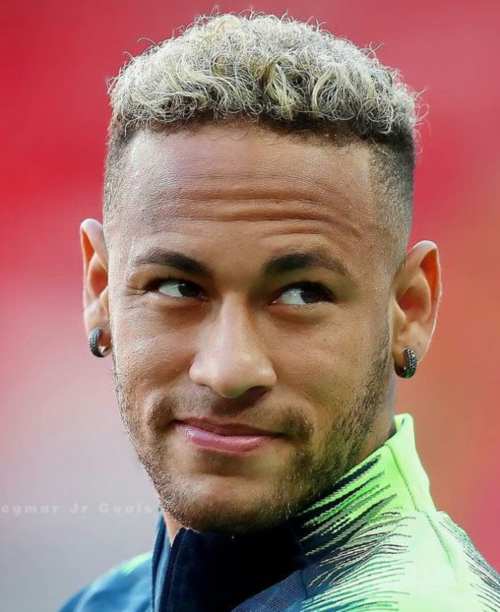 This hairstyle is the natural curly hairstyle with color highlight and side part is drop fade haircut. Make this hairstyle with some easy way if you have curly hair make a comb-over and ask to barber which fade is best for yourself.
2. Long Layers Haircut with Side Part Bald Fade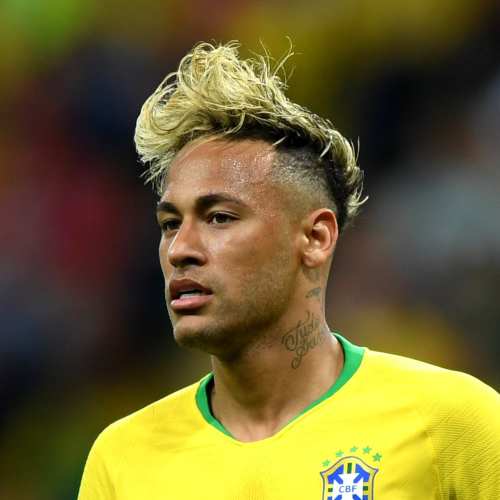 As a Football Player, this hairstyle is very stylish and awesome, Neymar Haircut is always a little bit different and become famous. Get this hairstyle if you have minimum 8-12 cm hair length, and you should get blonde hair highlight too.
3. Messy Colored Layer Neymar Jr Haircut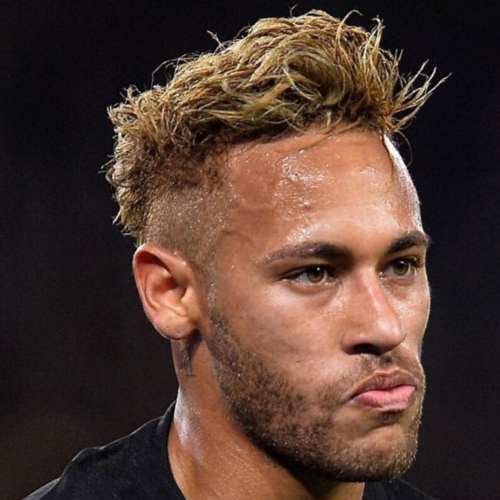 In this Picture of Neymar Hairstyle, he had light red color hairstyle and side part high bald fade haircut. You can make this hairstyle if you have a pompadour hairstyle and short quiff. Just Make your messy and get this hairstyle.
4. Curly Mohawk with Drop Fade Haircut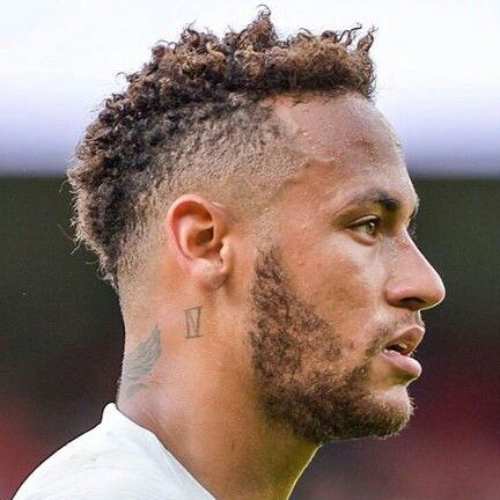 The Famous Original Curly Drop Hair with a Mohawk Shape and Drop fade Haircut. Most of the people's natural hair is like that and they can make a mohawk hairstyle with this type curly hairstyle. Neymar Beard is still not grown very well, it's just like his hairstyle.
5. High Skin Side Part Fade Haircut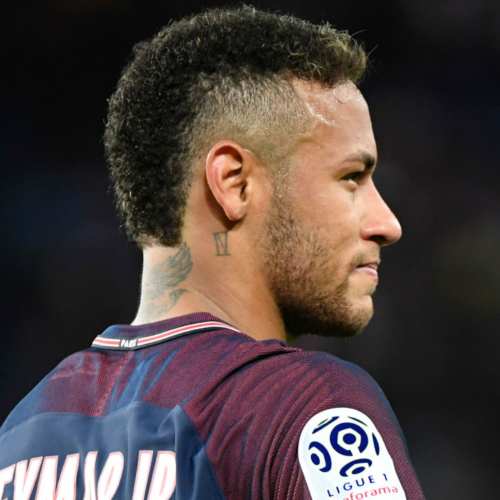 You know what? Why Players, make them side part of the hair, fade design and mostly short length hairstyle. Because these types of hairstyle are very comfortable and perfect while playing. Mohawk Hairstyle is not good if you don't have a fade hairstyle.
6. Highlight Long Layer Neymar Haircut 2017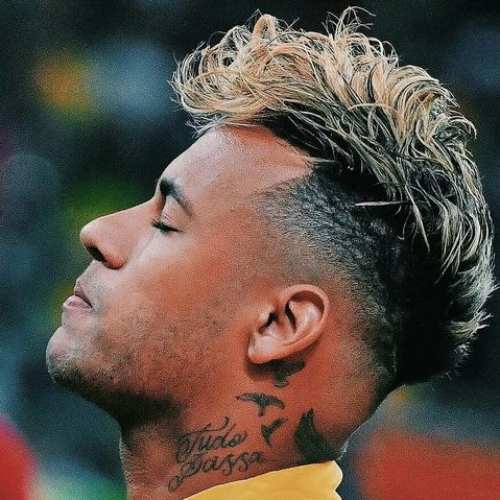 That's one is Modern Latest Hairstyle, you can see that the side part and top hair. Let me tell you how to say to your barber to make this hairstyle. This is Medium Length Hairstyle with Blonde Highlight Shades with Taper Fade Haircut on side part.
7. Short Quiff Haircut with Bald Skin Fade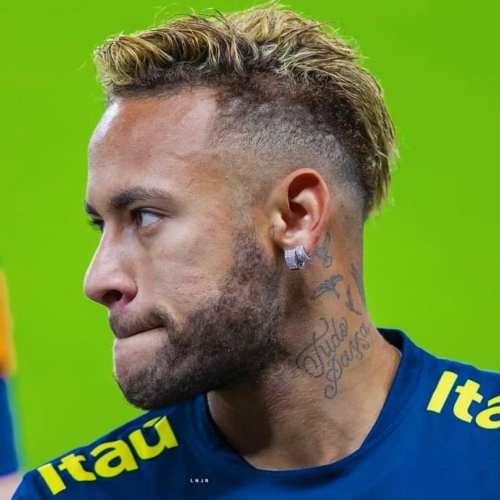 In most of Neymar hairstyle picture, he had mohawk hairstyle and Side Part and Back is fade designed. This hairstyle is Short Quiff Comb Over with Undercut style.
8. Slicked Back Short Pompadour Hairstyle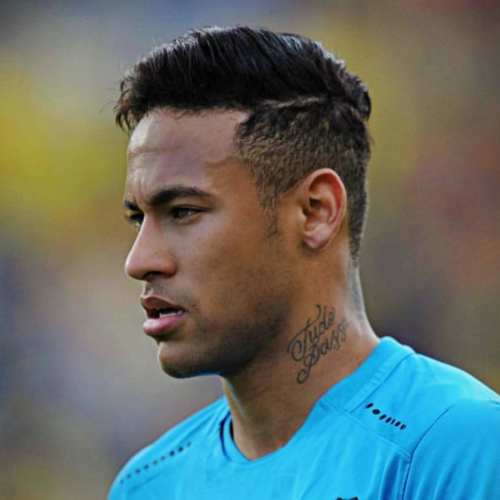 Make the same hairstyle you can see on this picture and get a style of Neymar hairstyle, you just need long hairstyle and some wax. Contact with your barber and show this picture.
9. Long Curly Blonde Hair with Mohawk Style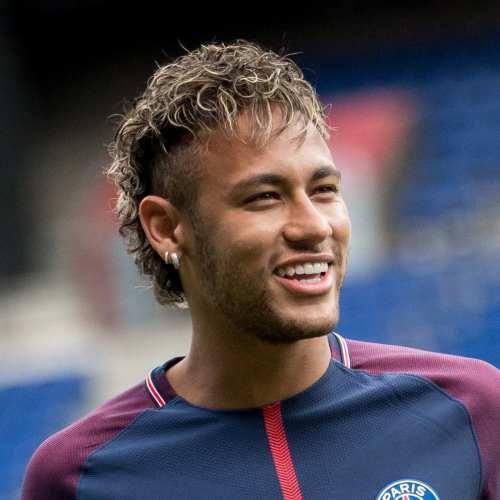 When you curly hair becomes long your hairstyle look like this but don't make them short again. Just make you side part fade again and use normal hair gel to give a perfect touch like this hairstyle.
10. Natural Neymar Haircut 2016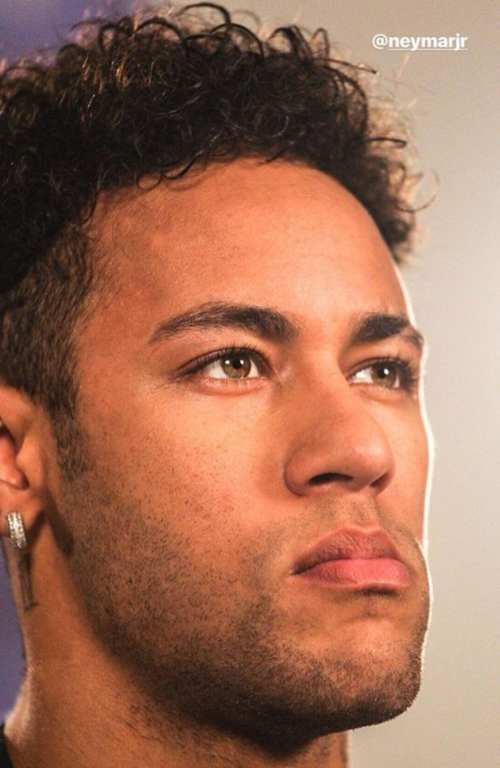 In this close up of Neymar Haircut 2016, he had his naturally curly hair with an old fade hairstyle. When he started playing football for a team he had the curly hairstyle like this.
11. Disconnected Curly Mohawk Hairstyle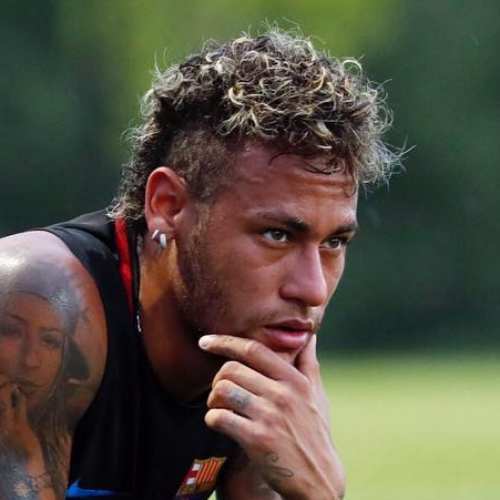 When you got tired and play too much, your curly mohawk hairstyle change to like that. This is the Neymar haircut 2015 and with this picture, we can see his tattoo on right arm.
12. Side Part Fade and Back Fade Haircut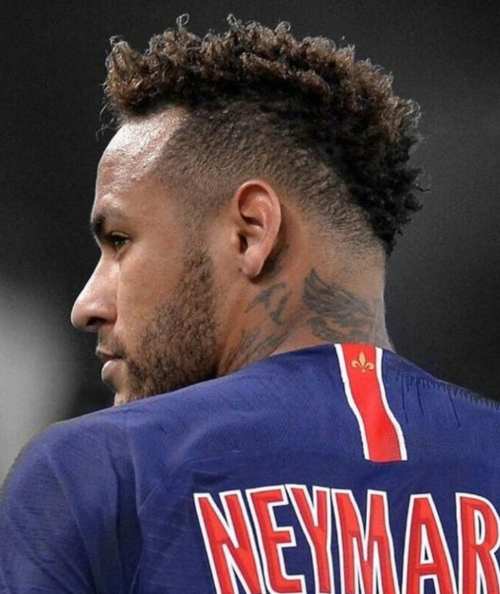 Why Neymar make his back hair fades like bald fade and a high fade haircut? He has a Tattoo, an angel wings that's why he keep fade back part to show his tattoo clear.
13. Brazil Curls Hairstyle Neymar New Haircut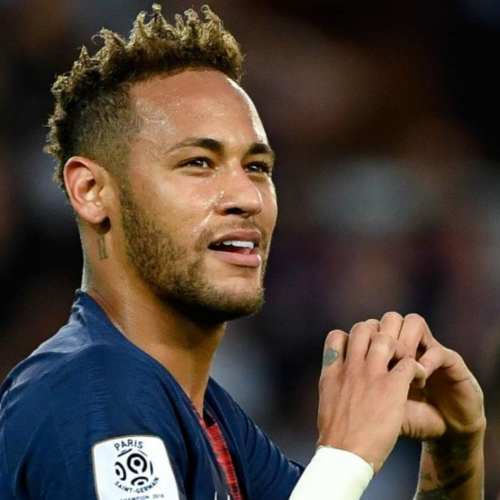 Neymar is not so famous like Christian Renolds but he has lots of fans who always trying to make a look like Neymar. We got lots of requests to add Neymar Jr. hairstyle so we made this post.
14. Neymar Beard Style with Low Fade Haircut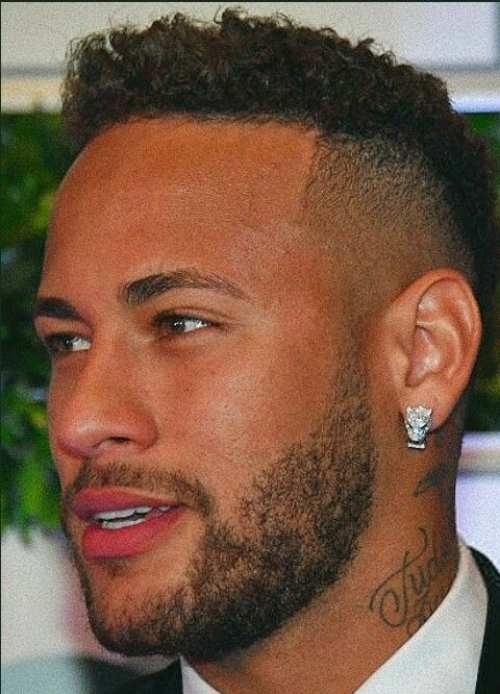 Neymar New Haircut with Side Part Low Skin Fade Hairstyle and tiny beard hairstyle. Make your hairstyle if you like this hairstyle and you're a Player. So, you got a perfect hairstyle to show this picture to your barber and get it.
15. Latest Wavy Curly Hairstyle for Men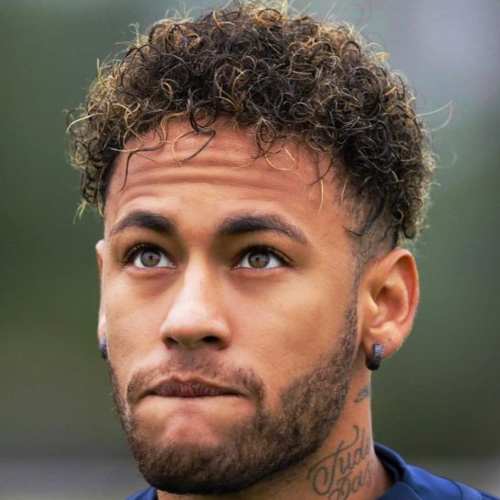 Make a Bun Head like this Neymar Hairstyle, you need a Curly Hairstyle with long length hair with that you can get this hairstyle. To make this hairstyle best make side part haircut too.
16. Short Hairstyle For Footballers
In this post, all hairstyles picture is for footballers and who want a perfect hairstyle. This is the perfect Short Hairstyle For Men and players.
17. Long Length Textured Wavy Hairstyle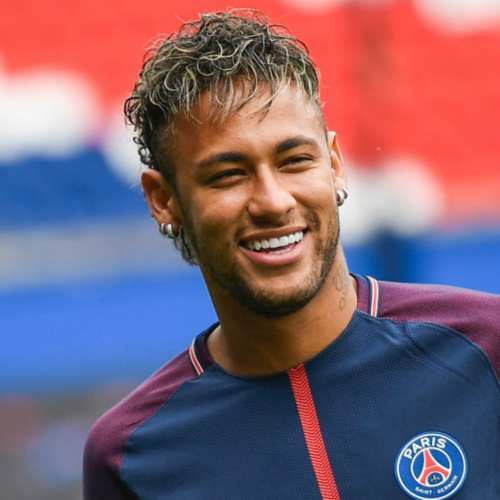 Make wavy hairstyle with your long length curly hair and side high fade haircut. Get stylish and comfortable hairstyles while playing football and other games.
18. PSG Neymar Hairstyle with Messy Hair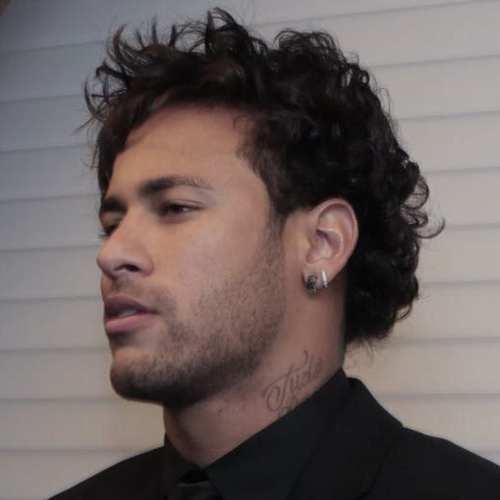 When you fade part hair is grown long and curly hair gets wavier, then your hairstyle becomes like this. Neymar Haircut style with his natural long and messy hair.
19. Short Comb Over Quiff Hairstyle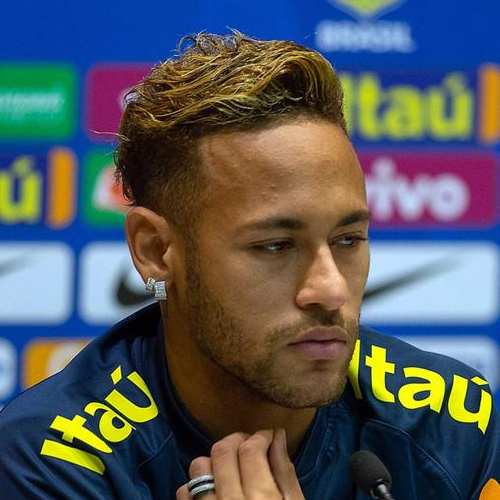 Now, I'm Bored to see all curly hairstyle and Neymar has not just had the curly hairstyles. He had Perfect Quiff hairstyle with short wavy hair and side part burst fade haircut.
20. Drop Fade Curly Short Hairstyle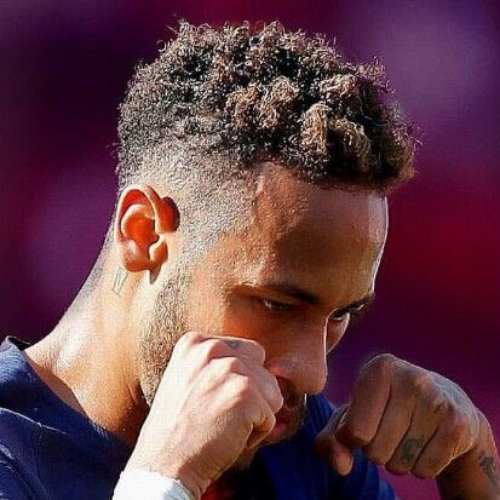 Make a hairstyle like this one with natural curly curls hairstyle and side part drop fade hairstyle. Most of Neymar hairstyle had one thing same, and it is Mohawk Hairstyle.
21. Neymar Haircut World Cup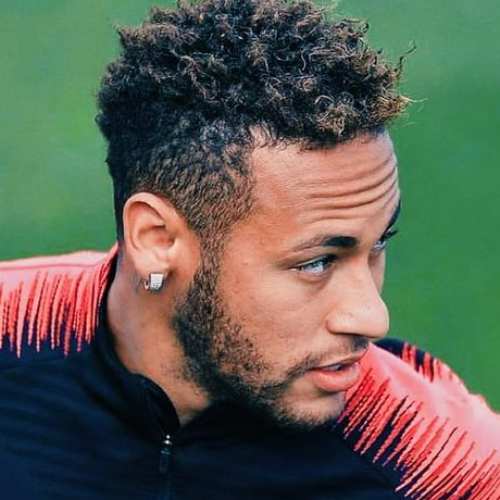 this picture is taken while World Cup Match of Neymar haircut, Top of his curly hair is colored and side burst fade with drop fade hairstyle.
22. Latest Neymar 2018 Hairstyle PSG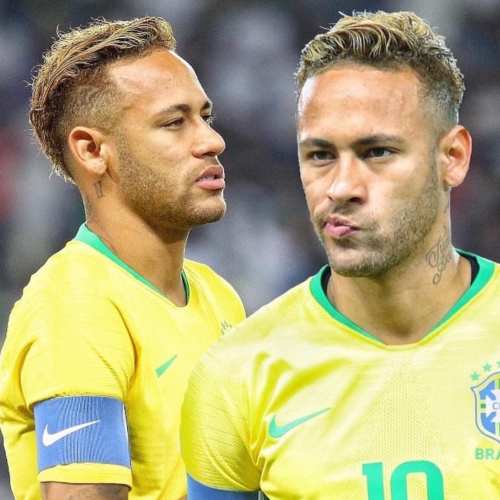 The Latest Picture of Neymar Hairstyles with Quiff Textured Hair with Mohawk Touch and high Fade side part hairstyles front view and side view. It's very easy to make.
23. Highlighted Layers with Undercut Hairstyle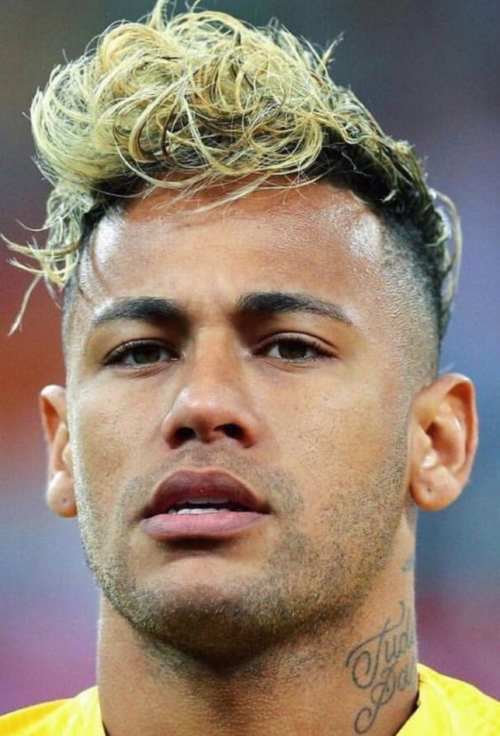 When you curly hair becomes long and look like long wavy length so, first make side part a cool fade haircut again and the top of the layers blonde textured highlighted.
24. Neymar Jr. 2015 Hairstyle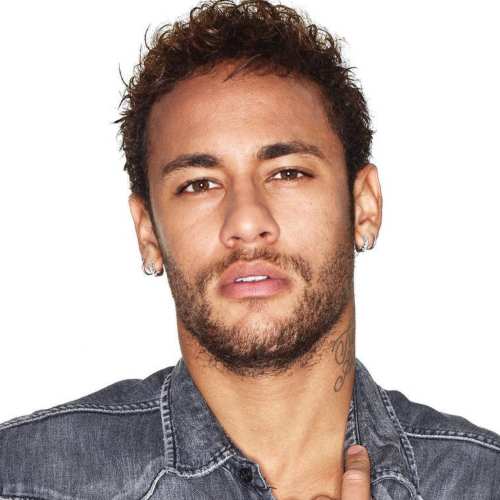 Too Old Picture of Neymar Haircut 2015 with same Naturally Curly hairstyle without fade side part touch.
25. High Undercut Hair with Curls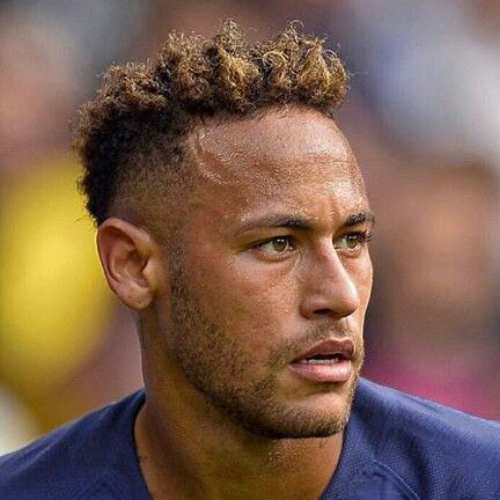 Undercut hairstyle with mohawk curly hairstyle and highlighted colored hair.
26. Mohawk with Fohawk Fade Hairstyle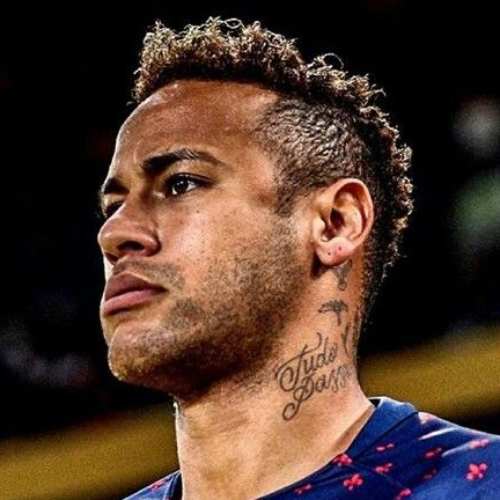 Neymar had a perfect side part haircut because of his curly hairstyle mohawk cut.
27. Neymar 2014 Haircut with Curly Hair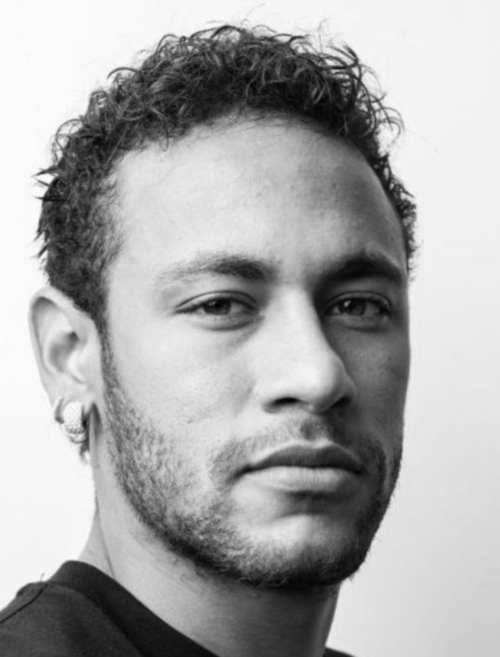 This Picture is taken in 2015 when he was started his career in the Football field, this is the hairstyle of Neymar 2015 with curly head messy hair.
28. Mohawk Dreads with Undercut Fade Haircut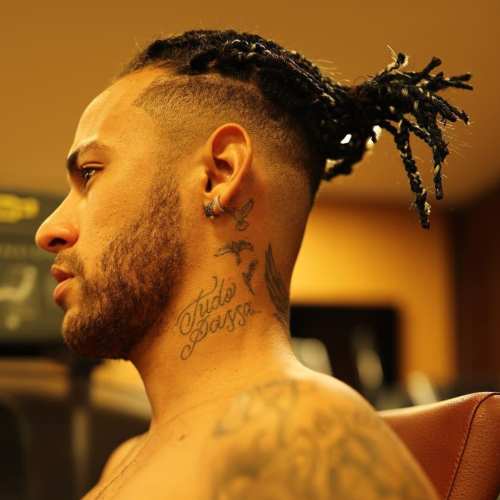 When your hair is becoming too long then you can make dreads like in this Neymar Haircut and don't forget to make side part fade. Which Fade Haircut is best with dreads and braids? There are three types of fade haircut who looks perfect with this hairstyle, 1. High Skin fade haircut, 2. Taper Fade Haircut, and 3. Skin fade / Bald Fade Hairstyle.
29. High Skin Fade Haircut with Top Hair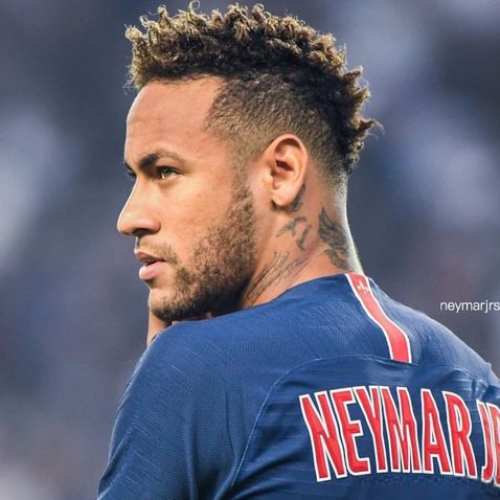 With Skin fade hairstyle you can keep your beards like that to make more perfect and good looking.
30. Medium Length Quiff Hairstyle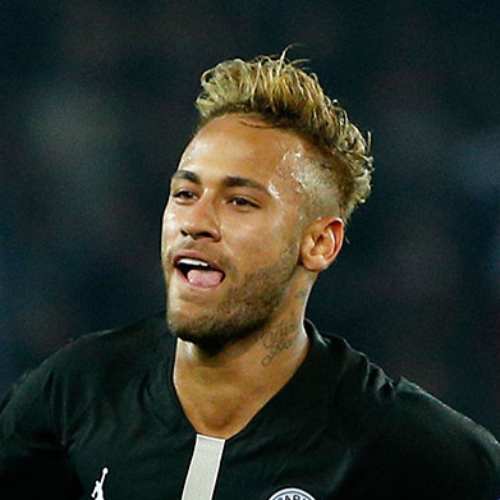 The Beautiful Textured Highlighted Blonde Layers with Fade Bald Side Part Hairstyle. To make this hairstyle you have to grow your hair long minimum 8-10 cm with that you can make this hairstyle easily. If you want temporary colored layers so use hairspray, the spray is best for getting highlighted hairstyle.
31. High Curly Colored Hair with Fade Side Part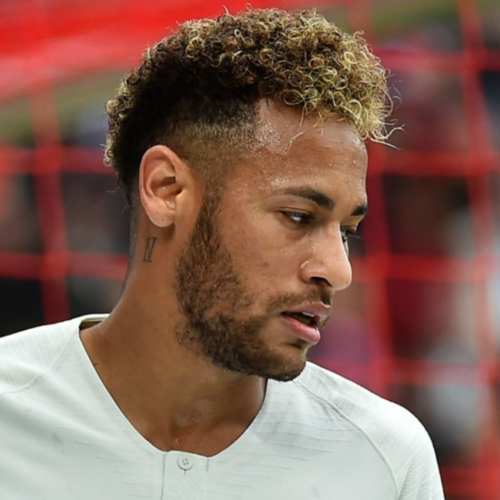 So many curls natural curly hairstyle mohawk shape and side part taper fade haircut.
32. Latest Neymar Hairstyle For Guys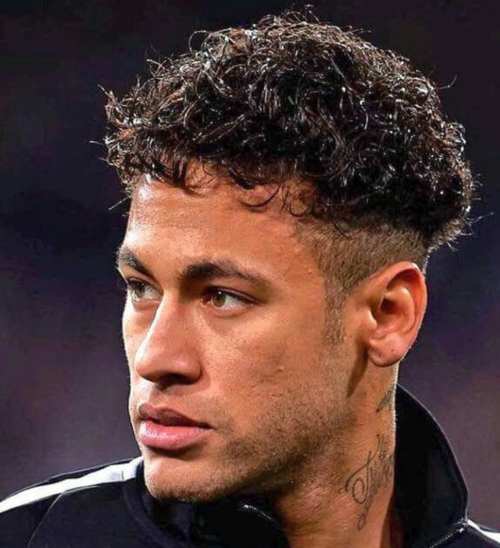 This is the perfect curly hairstyle but in this picture is messed because of Neymar Playing,
33. Neymar Buzz Cut Short Haircut
Juda Passa Tattoo and the popular buzz hairstyle with short length haircut and Fade beard style.
34. Short Spiky Hair Mohawk Hairstyle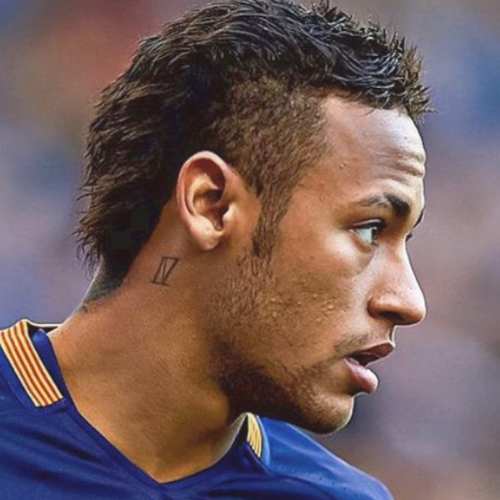 Make short spiky hairstyle like Neymar Hairstyle with short length hair and side part design. In this picture, Neymar Back's hair is long more than front hair. It's a nice mohawk hairstyle by the way.
35. Short Buzz Cut Sporty Hairstyle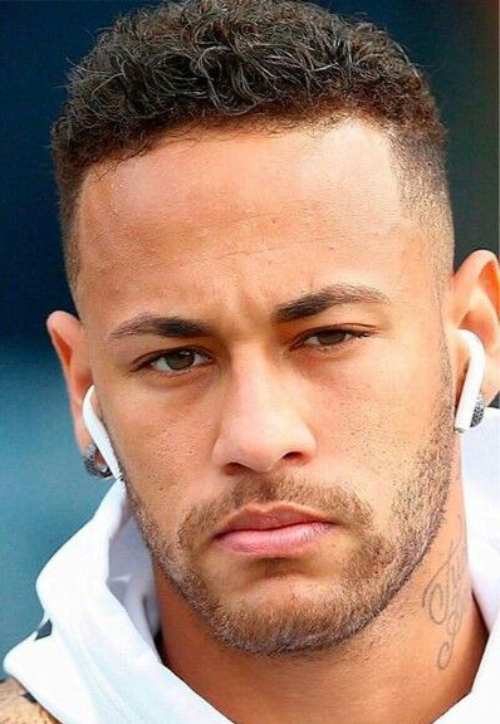 Check out the side part of Neymar Head, it's the latest bald fade haircut with the natural curly haircut.
36. Neymar Haircut Side View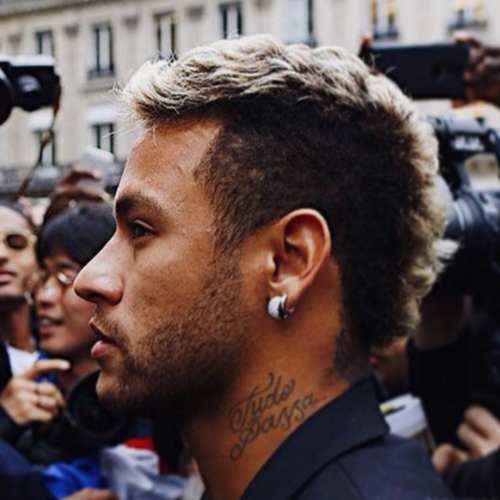 Colored Mohawk Hairstyle For Men, with curls and side part high fade hairstyle of a side view.
37. Spiky Hairstyle For Guys with Neymar Style
This is Neymar Old picture when he had pretty medium length hair full textured and spiky hairstyle.
38. Short Beard Style with Curly Hair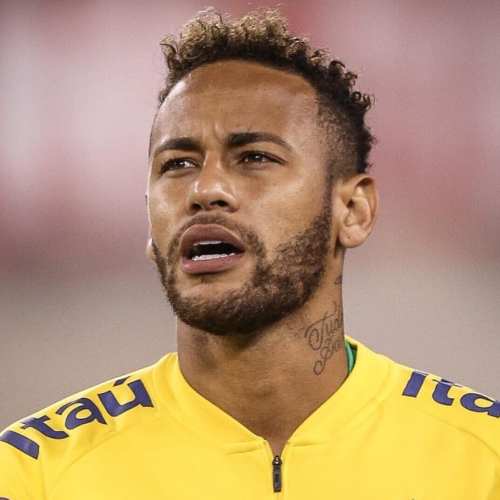 Neymar doesn't like to keep long beard hair, he just keeps a short lengthed beard and his beard hair is naturally curly like his hair.
39. Drop Fade Side Part Haircut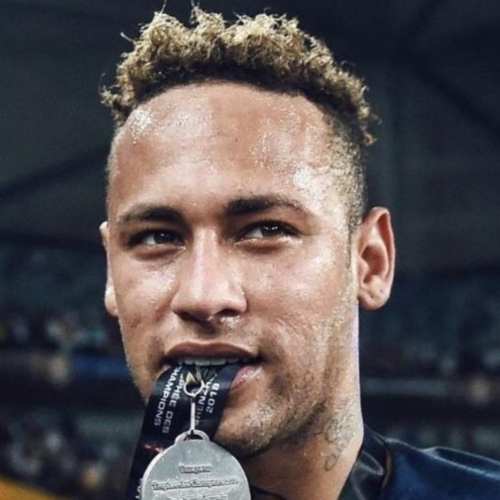 The Happiness of Victory with Popular Hairstyle and side part drop fade haircut.
40. Cool Short Quiff Blonde Hairstyle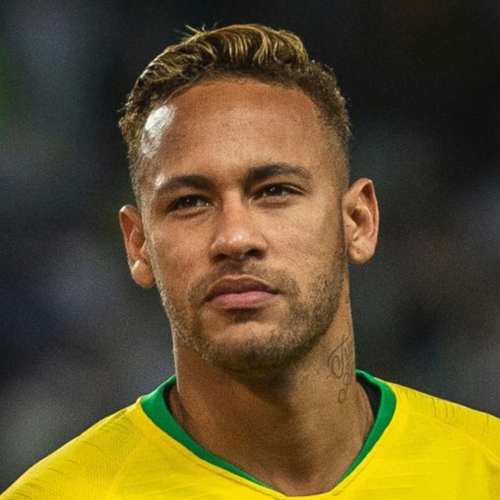 Mostly Neymar Make Blonde Hair Highlight and with that a quiff hairstyle.
41. High Length Curly Hair with Color Shades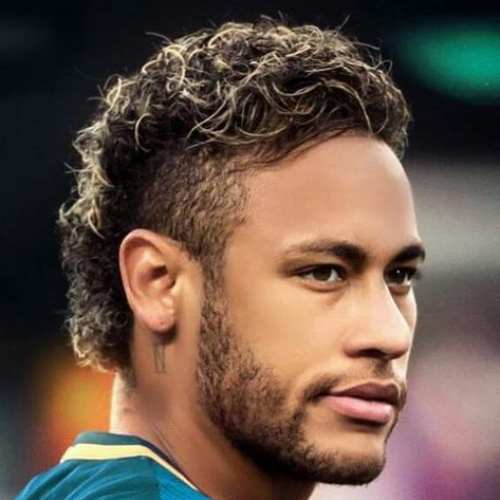 Long Length Hair Mohawk with Colored Layers and Side Part Fade hairstyle for men.
42. Medium Length Spiky Hair on Face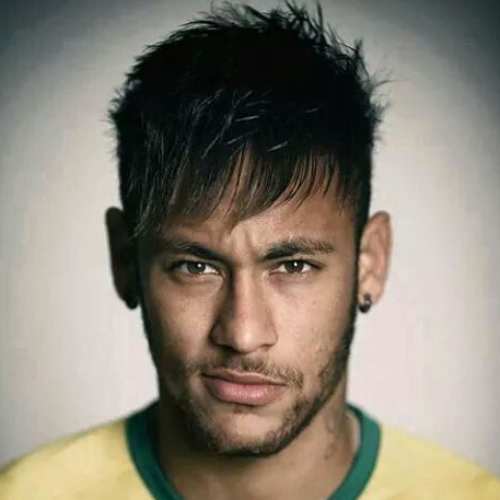 Best Hairstyle for Teenagers with Medium-length Hair spikes and some hair on Face.
43. Golden Short Perfect Quiff Hairstyle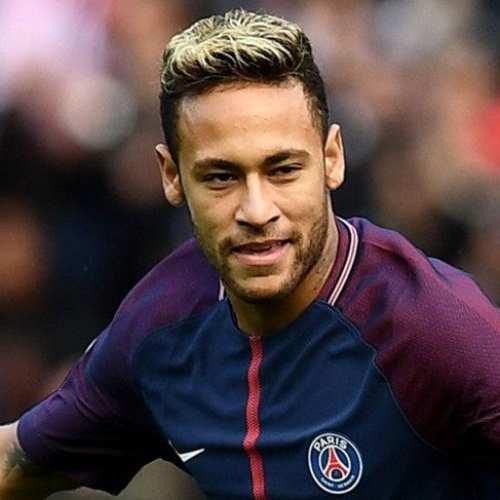 A Beautiful Golden Quiff Bun with a Perfect Fade haircut. How to make this hairstyle. First, you have to grow your hair 5-8cm and colored top of 4cm blonde.
44. Curls Quiff with High Fade Haircut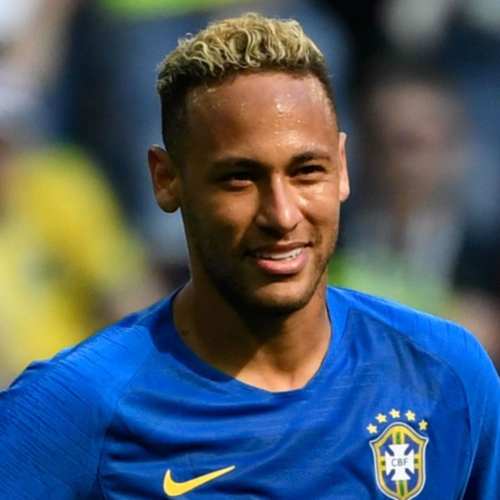 Make a Quiff Hairstyle with Curly hairstyle, you need a Hard Cold Wax For Mens Hair to make this hairstyle.
45. Taper Fade Side Part Hairstyle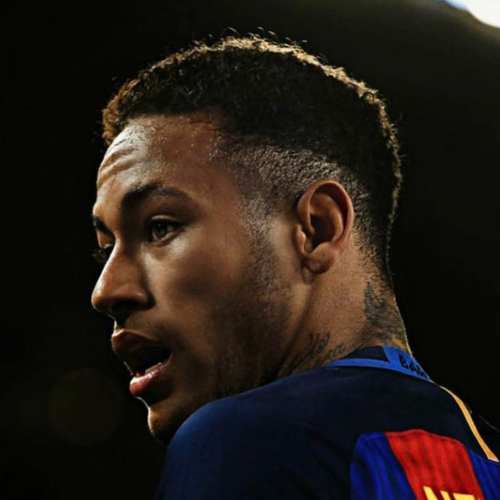 Box Fade Haircut with Drop Curly Mohawk Hairstyle and Side Part Shades Fade Skin.
46. Messy Quiff Hairstyle with Blonde Color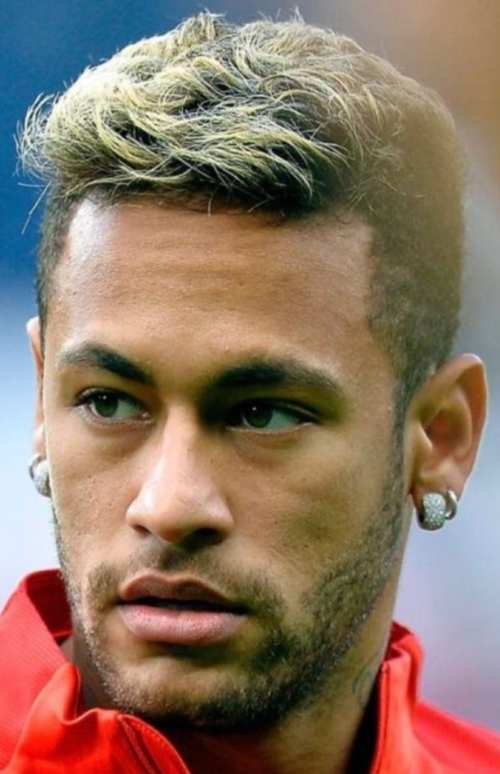 A Short Quiff Hairstyle with Highlighted  Blonde and Messy hair fade hairstyle.
47. High Lighted Blonde Neymar Hair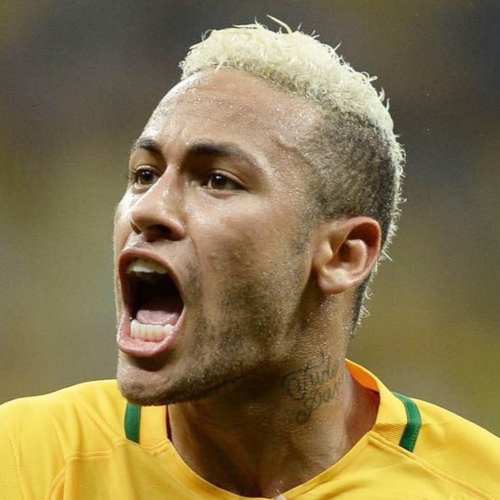 Short Spiky Blonde Hair High Highlighted Top hair and Side Part Drop fade Blacked Hair.
48. Close View of Neymar Tattoo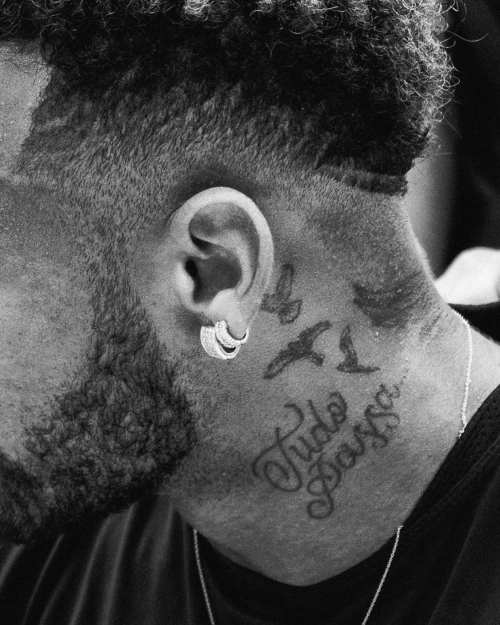 This is the close-up picture of Neymar haircut, it will help you to make a perfect fade haircut of side part and back. With Neymar Tattoos Tudo Passa close-up.
49. Messy Hairstyle Old Picture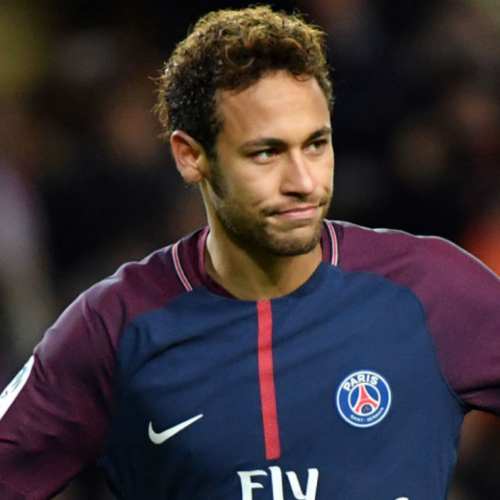 A Curly Hairstyle without Fade looks like that one, now you can see that how worst is that. The fade haircut is must need with mostly men's hairstyles.
50. Neymar New Haircut with Fade Design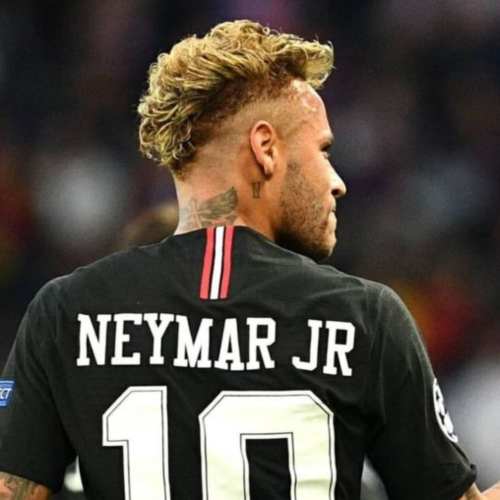 This is The latest Neymar New Haircut with this Wavy Mohawk Hairstyle with Long Length Blonde Hair and High Skin fade Haircut.
51. Neymar First Haircut with Spikes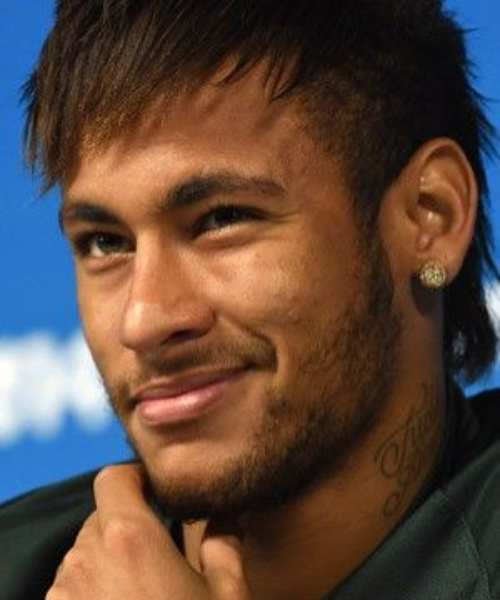 Make your hairstyle like Neymar haircut and get more cool hairstyles like Sergio Ramos Hairstyles, Bryce Harper haircut, and G Eazy Haircut.